What are the Winter's Like in Kelowna, BC?
To be honest with you, winter of 2022 is only our second winter here, so this blog post won't excatly make me look like an expert.
But what I can tell you is the differences between 2021 and 2022 are astounding.
Below you'll see a photo of November 29th, 2021 and below that you will see a photo of November 18th, 2022.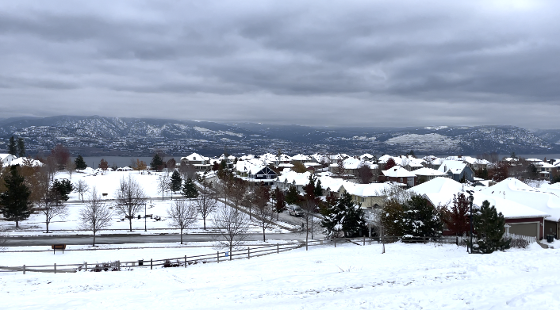 What a difference a year makes, right?
In 2021 Kelowna didn't see it's first snow fall until December 4th, it was wet and it was heavy but really fun to have snowball fights with!
That snow lasted until about the beginning of March when the temperature really started to kick up and everything started to melt away.
This year we are hoping for a Spring that will be very similar even though our winter got started quite a bit earlier than we had liked.
Is it Cloudy in Kelowna in the Winter?
This year it certainly has been and I can tell you it is hard to get used to the darkness kicking in around 4:30pm in the afternoon when it is cloudy.
The clouds sit low in the valley and don't typically move or break open in the winters that we have experienced here.
It is well known here in Kelowna that if it is Vitamin D that you seek, take the 45 minute ride out to Big White and you will get all the sunshine you need.
We have experienced that and can unequivocally state that it's true.
So be prepared, the summers are amazing, it is hot and tons of sunshine for hours and hours throughout the day. The Spring is somewhat wet and from what we saw last year, Kelowna CAN have a gorgeous fall.
Winter is the one season here that has a serious downside, that said though, it only lasts 3-4 months and it is relatively mild compared to other parts of Canada.
Does it get Cold in Kelowna in the Winter?
Last winter we saw about a weeks worth of colder temperatures where it was in the -20 celsius range.
It is nothing like what you would see in Calgary or Edmonton or Prince George where temperatures could drop down to -30 or -40 for seemingly weeks on end.
Because we are close to the water here in Kelowna and Lake Okanagan doesn't freeze, that minus 2 or minus 5 just feels different here.
It is a 'wetter' cold, more damp like Vancouver and not at all like a dry cold like what you would experience in Calgary or in Edmonton for that matter.
You can expect very consistent weather patterns in all of the seasons, in the winter you can expect a range of between minus 5 and plus 5 celsius.
Does Winter Suck in Kelowna?
I think getting snow this early certainly sucks, but if you're a teenager with a strong back, I can tell you there is plenty of opportunity to make some money before Christmas!
The amount of residents here looking to have their driveways shoveled is crazy!
Ultimately you should watch the video below and make the determination for yourself if the winter sucks here in Kelowna.
If you have any questions about the real estate market and whether it sucks, you can always email me kelley@kelleyskar.com or give me a call at 778-716-7527.